WW100 - New Zealand's First World War Centenary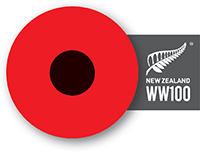 WW100 commemorates the First World War centenary from 2014 to 2019 with events, projects, and activities throughout New Zealand. Learn more about World War One and New Zealand's involvement.
General resources about the First World War
This super-handy resource gives you an overview of the First World War and helps you find your way among the many resources available online and in print. It has a special focus on Canterbury and Christchurch's involvement with the war.

New Zealanders in the First World War

This is a guide to help you find information about the men and women who served in the New Zealand armed forces during the First World War. It includes resources on service records, rolls of honour, family information, medals and awards.
Our booklists cover all sorts of areas: fiction for young adults; Gallipoli; Māori and Pacific Islanders in the war; medals and equipment; and lots more.
Primary resources about the First World War
Get a real insight into what life was like for those who went to war and those who stayed at home.
25 Youth Ambassadors attended the 2015 Anzac Day commemorations at Gallipoli. Find out about their experience on Facebook and YouTube.
View digitised copies of diaries, letters, booklets, and memorabilia. Search our catalogue for photographs from the First World War and browse our Flickr set of images including postcards and photographs.
These eResources contain useful First World War information, including primary resources.
More resources