Your reviews 2009
Best and worst of 2009 - your entries
Here's your votes, plus all your reviews from 2009.
I just love reading them. I am reading them for the seventh time and I never get tired of reading them. Paige Holland.
It's good because jacqueline puts really good thoughts in her writing and it is really sad at the end and has great emotion to the book and it is really good. Rebecca.
This book has a whole different meaning to horror . It starts of when the main character and his class go on a train and it comes part way off the track in the middle of a bridge and the main character begins living everyone in his carriages worst nightmare. This a great book but not for people who don't like being creeped out . 10++++ geena
I chose this book to bet the best one that i ever read beacause the story was really interesting especially those who have the same age as me...It's very cool and romantic story that will make you read all the volumes of it… Paula Kristina.
This book, in my eyes, was perfect. A mix of friendship and love, and written in a humourous way, it is a great read from Meg Cabot. Teen Idol follows Jenny Greenley who is asked to look after nineteen-year-old screen sensation Luke Striker as he practises for a role. The story is written extremely well and I recommend it to anyone :) Sarah Thwaites.
It has a whole mixture of action, romance, fashion and an occasional hint of humour which will appeal to a large range of teenagers. It is lso about high society vampires in high-school so it will also appeal to most teenagers! Georgia Kerby.
This woman reaches her 50s and it shows her life, and what happens eg. she gets accidentally pregnant at a party and has a child.
This is full of adventure and romance all in one and takes you on an adventure, you will never 4get its really imaginative and informative about Miss Marshalls weird and wacky job description… Des Hunt is a great author and this is a must read!!!! 9/10. Hannah.
I just found it really interesting and well written, as it gave me an insight into the life of someone in the Solomon Islands, in the middle of a civil war. I think it made me appreciate the small "luxuries" I take for granted at home. Harry Tothill
It gives an amazing description of a subject which is rarely spoken about. very detailed and informative without bias. slightly disturbing but very worth reading :) Madeline Davison.
Pure emotion. Adam Davies doesn't try to be fancy, he simply takes you with Jack on his 'journey' of discovery. Each character is perfectly formed, but they're not perfect. They have their flaws, they have their vices, they are human. The events surrounding Dex's death and all aftermath are so well written that I found myself in tears four times. It is a novel about love, not romance, but the bonds within a family. Within the family, there are so many ties revealed and a lot of misinterpretation about these ties. I guess I find it difficult to explain 'why' the book was so good, one would really have to read it for themselves. I will say this, however: It made me think about my memories. Emily Birkinshaw.
It has lots of action, is has suspense, and the book has some very interesting ideas and concepts. Julius.
I rate this the worst book that I have ever read because when you read it you can picture a very horrible graphic picture of torture and death. Throughout this book this happens. I think that the author (Maurice Gee) wrote this book in a way that made you feel the pain of what was happening in the story. Anthony Fokkens.
'The Lovely Bones' was my favourite book this year because i haven't been able to find a book lately that made me feel the way 'The Lovely Bones' did! I cried, I laughed, i screamed with frustration. It was an amazing story and I would recomend it to anyone. Rochelle.
It was such a descriptive story about such an intense topic. I felt so involved and so moved by the situation. It had drama, laughter, tension, joy and a beautiful ending. Bridget Mackie.
A delightful tale of "Beauty and the Beast" which I could not put down and read it several times. Combines the fairytale with history into a light and enjoyable read. Laura D.
'The Year of the Flood' is the sequel to Margaret Atwood's 'Oryx and Crake', and tells an alternative story of the apocalyptic events that unfolded in its predecessor. It ties together multiple narrators, all of whom are in some way connected to Jimmy (the protagonist in 'Oryx and Crake'), and further explores the ethical issues of environment, GM, consumption and social class introduced in the first book. The book's greatness stems from the way it explores these issues through a vividly constructed dystopia, which is permeated with Atwood's usual dark, dry sense of humour. 'The Year of the Flood' will simultanously entertain you, and leave you contemplating important real life issues and dilemmas; the perfect mix of thought-provocation and escapism that characterises many great texts. Well worth the read. Tessa Houghton.
In Project X, Jim Shepard takes a unique look at school shootings. Leading up to the school shooting, we see the novel's main character Edwin, slowly going in a downward spiral - with bullies, his best friend Flake and his exasperated parents all playing a part. While most novels about school shootings make it hard to empathize with the shooter, Project X takes the reader into the mind of a shooter and helps us to understand how such devastating events can occur. Holly Jamieson.
The thing that made this book so good, so amazing even, was the way a simple love story and the thrill of becoming invisible were intertwined to create a story I will never forget. It was really well written, and had me in suspense about how the problem was going to be solved. Just writing about it makes me want to read it again! Jo Murgatroyd.
because it seems so real so touching and makes me relise that the world is not always great for some!! Cheyenne Parris.
This is my favourite book of the twilight saga because Bella has to choose between her friends vampire Edward or werewolf Jacob. I also like this book because Edward asks Bella to marry him. Amy
J.D. Salinger's 'The Catcher in the Rye' has gained a reputation as an exemplary novel about coming of age, but I would have to object entirely. Holden Caulfield (the narrator) has an underdeveloped, one-dimensional view of a world full "goddamned phonies" and this view spreads throughout this novel to the extent that it appears to be a hormonal diary rather than Classical Literature. For example while lying to a mother about his view on her son he comments to himself: "Sensitive. That killed me. That guy Morrow was about as sensitive as a toilet seat."

Holden's insincerity and contradictory nature throughout the novel is hard (sometimes impossible) to miss. Though he seems to function as a coming of age character, all he wants to do is resist maturity. To Holden, the adult world is an endless vortex of superficiality and phoniness, while childhood represents innocence and purity (as shown by his perceptions of his younger sister Phoebe's life). Also, while asserting that the adult world is full of phoniness, Holden doesn't once acknowledge his own "phony" nature. He'd like us to believe that he represents some sort of honourable force in a phony world, but this isn't the case. Holden is, in effect, his own counterevidence. Elsie Hemmingson
Don't you find that there are literally millions of books written on war, especially World War 2, and after reading so many they get very repetitive and you don't even consider reading them anymore - fantasy or science fiction would be far more interesting! I was recommended this book and half-heartedly decided to give it a go. From the very start I was gripped. Instead of being about the sufferings of New Zealanders, British, Americans or Jews like World War 2 novels often are it was about German civilians and what life was like for them during the war. Not only that but it started off from Death's point of view, a curious and unusual yet amazing beginning that pulled me in. A fantastic book about the things in war that you never really thing about. A read I would recommend to everyone! Nadia Salloum
This book is told from the different characters points-of-views. The ending is so unexpected, yet very well-written, and you definitely need a box of tissues, as it is so heart-wrenching. Chloe Biddick.
this book is very well written and is perfect for teenagers. even though the main character is a boy it is great for both girls and boys.the 10pm question is about growing up and learning about his family. it is also good because it is based in NZ and you can tell the way Kate De goldi explains it. i give 5 stars as it is quite funny and interesting (no wonder this book won so many awards):-) Courtney Inwood.
This was my first time reading anything by james patterson and I was absolutely blown away by his writing skills. This book is a great read and I would highly reccommend it. Matt Cox
All my friends told me to read this book about Vampires and other supernatural creatures. I didn't read it becasue I thought it was all just a little kids story that was so fictional. Pressure got the better of me and I read the book. I am completely hooked to the series and without the Vampires it wouldn't be a bestseller! There are also twists in the novel that makes it so you can't put it down! Fiona Kendall.
It is a good book because it is insparational and interesting. Sarah Kerr
It is the best book i have ever read. I dont usally like books but this one i could relate to. I love australia and that is where the book is based. Its really funny and i recommend it. Jesse
Double Cross was an amazing book because it showed me that when you are frowning or sad there is some one who had been falling inlove with your smile. It also showed that love can happen no mattter what colour you are. Kudzai Mvere
It has a really good plot that makes the book so real and it
keeps every moment you read it gripping it is a great book and should be
made into a movie its about a boy in incarceron a prison place that no
one can get in and get out and a girl who is trapped inside her own
house. Taylor McKenzie
This book makes you feel as though you belong in it's world. Once it's got you, it doesn't let you go! Tessa Holland.
The plot was very deep and constantly developing further, so itwas the kind of book I could really get into. I felt like I was rightthere in the story with the characters, and at times I even subconciously told the characters what to do!The characters themselves were extremley well developed and by the endof the book, many felt like old friends.It was an action-packed read, and a book that begged never to be putdown - which it hardly was :) Anna.
This series of books are full of action comady and romance. Each scene is described in such detail, that you feel as if your one of the characters. Definitly worth the read!:) Jennifer.
It is written by an amazing author, it is really interesting, you just can't put it down. 11/10. Elliot.
It was really good, a decent read that explored time travel in an interesting way and had romance throwninto the mix which I always like. Amelia Farrow
This book is so amazing! It is filled with so much adventure and the characters go through dramatic changes that make you feel closer to them. The plot is believable, which is a plus because it's set in a medieval time with dragons and magic. When I read this, I felt I was there. The ending is really well done and isn't easy to guess what happens. I really love this book and I'm going to read it again. Dragon's Keep should be a movie!! Mikayla Gale-Hill.
Snakehead, 7th in the Alex Rider series, by Anthoney Horowitz, is by far the absolute BEST book I have ever read. After landing a couple of hundred miles off the east coast of Australia in a outer-space escape pod, Alex Rider finds out about a tsunami plot that could wipe millions. Best book ever, and an A+++, 10 out of 10 from me. Josh Kokich.
November 2009
Beatle meets Destiny by Gabrielle Williams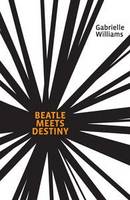 What happens when you meet the girl of your dreams, but you're already with the perfect girl? This is the dilemma that John Lennon (aka Beatle) faces when he meets Destiny McCartney in Gabrielle Williams young adult novel Beatle Meets Destiny.
If you know anything about The Beatles you'll know that Lennon and McCartney were the songwriting geniuses behind their fantastic songs, and so you might come to the conclusion that Destiny and Beatle are destined to be together (if you believe in that sort of thing).
If you like a good book about relationships between different people (family, guys and girls) this is the perfect book for you. You get glimpses into the lives of Beatle and his family and friends, as well as Destiny and her family and friends. Beatle falls for Destiny but feels trapped in a relationship with Cilla, and Destiny falls for Beatle but doesn't know he has a girlfriend. Throw in a stalker, a stolen chair, a shaven cat, horoscopes, and twins and you've got an interesting story.
This is Gabrielle Williams' first novel and she has done a fantastic job of weaving the stories together; you see Beatle and Destiny's lives intertwine without the characters knowing and they collide in spectacular fashion towards the end. Her characters are convincing and entertaining and you'll get caught up in their lives like I did.
September 2009
John Green - author and Nerd Fighter
Whenever I read a new John Green book I'm immediately struck by how much he understands the male mind. I find that alot of young adult fiction portrays males as either jocks or someone who is out-of-reach of main female character and not someone who I can relate to at all. However, John Green's characters are usually just normal guys, who are a bit nerdy (the main character in An Abundance of Katherines is obsessed with numbers) and you can really get into their head and understand how their mind works. Looking for Alaska was Green's first book which was great and was then followed by An Abundance of Katherines a couple of years ago. An Abundance of Katherines is absolutely hilarious with it's interesting mix of characters. It follows Colin who has only ever dated girls called Katherine. He has just been dumped by his 19th Katherine and so him and his Judge Judy-loving friend, Hassan go on a road trip hoping to prove his mathematical therom that should predict the future of any relationship.
Green's latest book, Paper Towns is his best so far. Once again, we get a glimpse of life from the perspective of an ordinary guy who lives life under the radar. Quentin lives next door to Margo Roth Spiegleman, a girl he has secretly loved for years. One night, Margo climbs into his bedroom window and drags him off on a revenge mission. However, the following morning Margo seems to have disappeared and it's up to Quentin and his mates to follow the clues she has left behind and find the girl he thought he knew. The characters are totally believable and there are plenty of hilarious moments, especially on the marathon road-trip to get to Margo.
John Green himself is a really interesting guy and I'd imagine that there is alot of himself in his characters. He has a cool website with info about his books and a daily blog, as well as his Nerd Fighter website that he has set up with his brother, Hank.
September 2009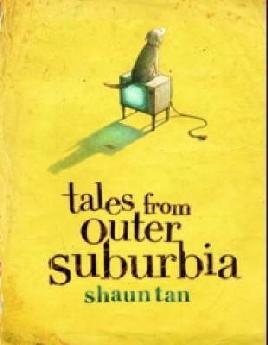 Shaun Tan
Shaun Tan is one of those illustrators that appeals hugely to adults as well as children and his artwork is absolutely stunning and quite surreal. My mum, who has introduced me to so many great books since I was born, doesn't like him because he's a little too weird for her tastes, but it is this quirkiness that really appeals to me. One of the main things I love about his illustrations is that they are quite different from book to book. His latest book, Tales from Outer Suburbia, is the book that has won the Older Readers category of the CBCA Awards and it is the best example of his different styles. It is a collection of short stories that he has written and illustrated, some funny and some slightly disturbing.
Definitely check out his work, even if you don't normally read picture books.
September 2009
What if … history was different?
Recently I read a book titled Blonde Roots by Bernadine Evaristo, which won the alternative Orange Prize.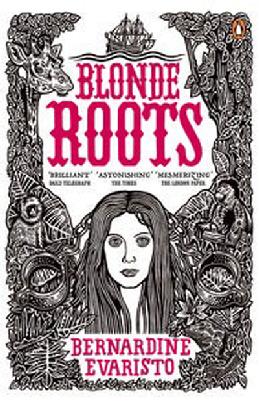 In the first instance, I had to find out what the alternative Orange Prize was. It turns out that the 2009 alternative Orange Prize panel consisted of six young people, aged between 16 and 19, who undertook to read the 20 books that made the Orange Prize longlist before making their own shortlist and nominating a winner of the alternative Orange Prize.
Anyhow, a bit about the book. Blonde Roots is a fictional version of the slave trade that addresses the question : what if white Europeans were traded as slaves and black Africans were the slave traders? Evaristo alternates the story between the voice of Doris and Chief Kaga Konata Katamba I, giving new black vs. white interpretations of the underground railway, the slave ships, the holding pens, the impact of geography, the people traders and the people traded. The tension of the storyline builds as Doris longs for escape, and although the mindset of each character does take on some element of racial stereotyping, this re-creation of an alternate slave trade is well told and digs into the question of how slavery would look from "the other side". And the opening quote from Nietzsche sets the tone for the book, [a]ll things are subject to interpretation: whichever interpretation prevails at a given time is a function of power and not truth.
Here are some online reviews from the UK, which delve into different undercurrents in the book, from modern fashion to race relations - Diana Evans from The Independent; Helen Brown from The Telegraph. If you want a thought-provoking read then I would recommend Blonde Roots.
September 2009
Reviewed by Asti Miln, 17
This is the 6th movie of the Harry Potter series based on the books written by JK Rowling. This movie however had many differences from the book. If you haven't read or seen the other movies you would have no idea what is going on. In this movie Harry Potter learns about Voldemort and the prophecy. He views collected memories through a pensieve. In the book more memories are explained and in depth. I was very dissappointed with this movie because after reading the book and getting excited I thought it would one of the best. It wasn't. When you read the book everything ties together but when you watch the movie it can be confusing and not everything is clear. And why did the Weasleys' house burn? That wasn't in the book. I would definitely reccommend reading the books and then watching the movies. The Harry Potter series is still the best yet and I will continue being a fan. I hope the next movie is true to the book.
July 2009
Reviewed by Isabella Walsh
Which Witch is a hilarious and enticing tale about a powerful black wizard, Arriman, and his quest to find an equally wicked wizard to take over from him when he dies,and the story of a beautiful white witch called Belladonna, who wants to be evil like the other witches.
In Arriman's quest to find the next all powerful wizard, he decides he has to marry a witch and have a child to ccontinue his evil biddings. To select a witch, he holds a competition for all the witches in town, a battle of witchy magic to see which witch is the most evil and powerful to be his bride.
Belladonna, who is in love with the dashing wizard, desparately wants to win the competition so she can be the one Arriman chooses - but how can a white witch perform black magic?
Which Witch is hilariously funny and also displays Belladonna as determined and will stop at nothing to get her heart's desire. It inspires readers to never give up until you get the outcome you want. A fantastic read for anyone who enjoys stories about magic, action or just a really inspiring story about perservation. Highly recommended.
July 2009
Reviewed by Susan
Helen, nicknamed Lenny by her family, is a farm girl and this is the story of a year in her life. She turns 14 during the story. When her brother returns from the war in Egypt, he lets out a family secret which turns Helen's world upside-down and makes her rethink her place in the family. The meaning of the title of the book becomes apparent as this story unfolds.
This book gives a clear picture of what country living was like in the late 1940s in New Zealand: the harshness of farm life, walking, or riding a horse, miles to school, the delivery of books in the "Country Library Basket" and the effect the 2nd world war had on a small community.
A number of unexpected twists and turns leave the reader wondering right up to the last pages what the outcome will be. While getting off to a slow start as it set the scene, I enjoyed this book and found it an interesting and compelling read.
July 2009
Reviewed by Sophie Crews, 14
The Truth About Forever' by Sarah Dessen is a contemporary romance novel, but not your typical, "OMG, should I ask him out?" book - a REAL story with REAL emotions that Macy feels.
Just like me, Macy leads a perfectionist life. Summer is here and she has it all planned: while her super-intelligent boyfriend is away at brain camp, she will spend her days covering for his job at the library; she will come home and study for her SATs; and the rest of her time will be spent helping her obsessive mother with her obsessive job.
Drastic changes in Macy's life happen however when fate smacks her right in the middle of her forehead with Wish Catering - an overly chaotic catering job. She meets new friends and Wes - an artistic, handsome, outgoing and abstract Wes. All these changes are out of her comfort zone, but she feels … happy.
Macy is a very private person and has been since her dad died in front of her eyes a year before. With Wes though, there is that weird feeling of comfort, so she opens up to him. Macy starts to question herself about what is forever and finds out who she really is and has the potential to be.
However, with this new path Macy has taken, disappointment will arise from those close to Macy - especially her mother who always seems to be there at the wrong moment.
This book really sucked me in because of the way Sarah Dessen captured the story. She writes in a way that any teenager could relate to, and pays attention to the smallest of details which all fit together in the end. She writes in so many ways from love to denial to grief. She forms Macy as a character that you can really get your head into, and the events she go through are easy to compare to my own life.
I know you're not supposed to judge a book by its cover, but this book does have an awesome cover! I really recommend this book if you are looking for something romantic, fun and memorable to read.
July 2009
Reviewed by Reme Anderson, 13
At the moment my faveorite book is the Jacky Faber series because of the witty characters, exciting adventures and all the different varitiy it includes. The author is the talented L A Meyer who in my opinion should win an award. The main character is named Jacky Faber. She is very smart and strong. She has certain funny characteristics like having a small knife hidden up her sleve and a blue tattoo in the shape of an ancor on her hip.(she gets this in the second book) She also uses quotes all the time like "damn!!" and "i may be small but im strong". This is definatly a character that you can get attached to very easily. Set in the early 1800's it includes very different things compared to now a days.
The first book in the series is "Bloody Jack" which explains a bit about her early life as an orphen on the mean streets of London. She disguises her self as a boy so she may sneak aboard one of King Georges ships as a ships boy. When she does she goes through some very rough and exciting adventures that will keep you hooked for hours. She experiences saddness, pain, good times, meets some new friends and falls in love. All together there are 6 books in the series and I would recommend them for 13+ year old girls.
This is a series that older and younger adults can read over and over again. It can make you cry and laugh, and each book leaves you on a cliffhanger for the next one! I know that i will stick with Jacky untill the very last page.
July 2009
Hatchet by Gary Paulsen
Reviewed by Orla Dawson, 12
"Hatchet" is a fictional novel writen by Gary Paulsen. This book is best suited for older boys and girls who love adventure. Teenagers and adults will enjoy this book too. 'Hatchet' is the story about a 13-year-old city boy's courage for survival. He is stranded in an isolated Canadian forest after he survives a plane crash. He has to hunt for food, and build shelters and weapons. This is a big learning experience which tests all his knowledge to survive. Overall this is an intriguing, page turning novel with adventure, danger, sadness and courage. I would rate this novel 8 out of 10.
July 2009
Reviewed by Rebekah Bos, 12
Thornspell is a book about a young prince who dreams of living a life like that of the heroes in all the stories he reads. He never really believes this is going to happen until a strange encounter with a beautiful but mysterious lady that will change his life. This is a brilliantly written remake of sleeping beauty from the princes point of view. Full of fantasy, action and even a bit of romance this story will capture the heart of anyone who likes a really good read.
July 2009
Reviewed by Paulien Martens, 15
It is the year 1939 in war-torn Nazi Germany, and Death is further away from a holiday than he has ever been. His loneliness makes him try to connect in some way with the human world, so he follows the story of Liesel Meminger, a young German girl. Liesel has been taken in by foster parents in Munich, Hans and Rosa Hubermann, shortly after the abrupt death of her younger brother. In this heart breaking story Liesel tries to develop a new home for herself in her conflicting country. She develops numerous valuable relationships; with her foster father, a young boy called Rudy, and a Jewish fist fighter. Most importantly, however, she develops and undying love for books and words. Death brushes past her often, carrying with him insights and explanations about humankind.
Will Liesel survive these dangerous times?
July 2009
Reviewed by samuel bingham, 12
My latest book i've read was Goosebumps - return to the carnival of horrors. You could choose your own endings, choices and all sorts. It was so cool because you could go back to the last page if you died and choose a different story path. It was probably one of the coolest books i've read.
July 2009
Reviewed by Kim Noah, 15
I really enjoyed the plot of this book. The book changes point of view each chapter, the points of view include Anna, Kate, the Mum, the Dad, Jesse, Campbell the lawyer etc. The book is quite hard to explain as it has various time settings. You find out that when Kate was two years old she was diagnosed with leukemia. Her parents decided to have a baby, Anna, so they could use the ambilical cord blood to help Kate. As time goes on Kate becomes progressively sicker, Anna donates bone marrow, blood and alot more. She is the one keeping her sister alive but is her parents making her do it. The book is about events when Anna was eleven, Kate is very unwell and doctors believe her only chance of survival is for a kidney transplant. He parents assume Kate will be the one to help Anna again. But Anna goes to a lawyer Campbell as she wants to be medically emancipated from her parents, that is take away the rights to her body from her parents so she can decide what to do.
At the start you believe Anna does not want to help kate, she is sick of Kate being the number one child. But through the book it is discovered Kate actually asked Anna not to donate her kidney because she believed is too sick and it is her time to go. Her parents think it is wrong Anna does not want to save her own sisters life so fight her in the courts. Kate and Anna have an older brother Jesse, he is a troubled teenager. He gets satisfaction in setting fires, he is an arsonist. It is quite disturbing as their father is a firefighter and the one putting out the fires Jesse lit.
I found how the book changed point of view/ narrator good because you got a view from everyone and how they felt and what happened before the main events. but some of the point of views, especially the lawyer and social worker quite well boring. i felt they did not actuallyadd anything to the story but actually confused me as it added more characters. The story would not change without those point of views. Overall i thought the plot was excellent, I really enjoyed that and I do recommend it! But do have a box of tissues handy as you begin to near the end, i won't say what happens as I don't want to ruin it. But I found the ending dissatisfactory, it was actually quite good and unexpected but a real shock and not my idea of a happy ending.
I am now onto my third book of hers and have found they all have a changing point of view which at this stage seems to be working.Overall great book and amazing author. So go to the library and find it on the shelves!
Maria Thwaites, 17, also reviewed this book.
With this book, you may need to buy a box of tissues. There is law entwined with medicine not to mention a lot of drama. It is about a girl with leukemia and that her sister has to supply bone marrow to help her survive. The sister who donates bone marrow then goes to court against her family so that she can say that she wants to stop giving bone marrow and finally to have a say in what happens. This book is so good that there is a film to be released next month! I enjoyed it immensely and recommend this book to everyone! It is also Jodi Picoult's number one best seller and deserves that placing!
July 2009
Reviewed by Holly Alfield, 12
This is the second of the series its great book if you enjoy girly stories!
Mia is a princess who lives with her mother and attends princess lessons with her grandmother. Yes you may think it would be great being a princess but not so much for Mia.
Her world may be turning upside down with interviews that go on TV somethings in them she would rather not have said. Also recieving secret love letters. Her mother is now marrying her Algebra teacher and she is a new big sister!
Can Mia handle all of this?
A great book!
July 2009
reviewed by Gabrielle Philpott, 14
Liberty Lane is a young woman in her early 20s in search of the truth. Both stubborn and determined, she is named after her father's admiration of the French revolution. She is also at ease doing tasks most young women of her time would scream in horror at. Set in England in the year 1837 Death at Dawn by Caro peacock is the story of liberty and her investigation into how and why her father really died. Infused with this story however is that of the new Queen of England and her cousin Princess Charlotte who died in child birth twenty years ago. To top it all off add a rich upper class family with secrets. Important enough secrets that Liberty has to go undercover as a governess by the name of Elizabeth Lock to discover them all.
While the story of Liberty Lane is a bit slow to get into and the first few chapter you sort of stumble around with a confused look on your face. Once you get futher into the storyline you get the general gist of things and you start having a ball. The way the story of princess charlotte is woven into the fabric of the novel adds a background mystery liberty has to solve and stops the book from getting tiring. Although the characters are sometimes difficult to keep track of at times Death at Dawn is a interesting read and a classic "whodunnit" novel.
July 2009
Reviewed by Mat Cox, 17
Forest of the Pygmies by Isabella Allende is about Alex Cold (aka Jaguar) and his friend Nadia, who travel deep into the African rainforest with Alex's eccentric grandmother to investigate the disappearance of several missionaries from the area. They not only dicover who is behind the disappearance but also get in a whole load of trouble on the way.
This is an extremely well crafted book. It's well developed characters and story line is enchanting and makes you feel as if you were in the story itself. The setting is breathtakingly detailed and the plot is filled with unexpected twist that keep you coming back for more.
July 2009
Reviewed by Milena Petrovic, 14
This book is set in an untraditional way in the form of letters, emails, notes, journals and phone messages. The story is basically a comedy and I think this template just adds to the overall fun of the book. It's written in modern day language and set in these times. It explores the all too truthful concept of struggling to find romance, a place to live and eventually a job, in a big city and without much money.
Thus is the life of poor Kathleen Mackenzie; 23 years old, living in the Big City, with no boyfriend or place to live. Having a job as a Personnel Representative at the New York Journal and sleeping on her best friend's couch, on top of which having no boyfriend and virtually no money, can have its limits.
As Kate struggles with her grips on life, an unexpected event causes her world to turn completely upside down: the firing of the New York Journal's favourite dessert trolley operator; Ida Lopez. Now Kate must try defending her boss (the Tyrannical Office Despot, Amy Jenkins, whom she hates) and quelching her own favouritism for Ida Lopez, (who has been nothing but nice to her) otherwise Ida may not be the only one losing her job.
So Kate meets the honourable corporate lawyer, defender of the small, wheel chair basketballing, Mitch Hertzog, who is representing her during her arbitration. Maybe love is not so hard to find after all? If Kate can conquer obstacles like a ballad singing/chicken in garlic sauce throwing ex-boyfriend, her lousy boss and being the fake girlfriend of Skiboy, that is
With the help of her friends, Kate just might be able to find all that' she's looking for after all.
July 2003
Reviewed by Milena Petrovic, 14.
This story is a mixture of adventure, passion, humour and romance among other things. The book is set around a period in which fame and fortune was sought by many and in which the arts were worshipped by all. These were the precious years before the Great War, a peaceful time in which music was treasured, wealth was abundant in faraway places and Britain was greatly governed by custom, tradition and protocol.
This is the time in which our characters are introduced. The primary being Harriet, an unremarkable girl of 18, who is not expected to do much but be clever and a good companion to whatever suitable husband is picked out for her. Harriet is raised under the strict eye of her Professor father, (her spirited mother having passed away when Harriet was only two years old) and her cheap Aunt Louisa, who's seemingly only goals in life are to save money and keep the family from disgrace.
The house in which Harriet is forced to live with her guardians is an awfully somber, cold, dark, empty, place, devoid of joy or happiness. Unlike other children her age, Harriet was eager to escape to the refuge of school. She was a good student and excelled, until her Father, believing females did not belong at University, pulled her out when she was 17. Therefore, the only thing left in Harriet's sad life, was her ballet lessons. She took ballet since she was very young and found such fulfillment and joy in it. When Dubrov, a Russian ballet master, came to her ballet school looking for dancers for his corps to perform in the Amazon, Harriet caught his attention. Of course, it proves impossible to get the permission of her father, so Harriet misleads her family and cleverly runs away to find the ballet troupe.
Thus we are led on a thrilling journey with Harriet, as she discovers not only a new land, but also friendships, love and the talent she didn't know she had. She falls for the handsome and wealthy Rom, a British rubber baron, with a sad past and the reputation of a ladies' man. Just when Harriet has settled down to her glorious new life, an unexpected visitor comes to return her home, thus threatening to destroy her happiness forever.
Before Harriet can live the life she dreams, she must suffer many obstacles; jumping out of a cake and being locked in an attic not being the least of them. A Company of Swans takes us through a young girl's happy though a little misguided fairytale, in a very witty, passionate and exciting way. It is, as all good books, very hard to put down.
July 2009
Reviewed by Hafiza, 12
I loved that book by John Boyne, the boy in stripped pyjamas; a fable. i havent watched the movie yet but i want to. its a very sad story ands brings back a lot of memories of my country. i just hope that the peiple who read this book will love it as much as i did!
June 2009
Reviewed by Olivia Sidrak, 12
Peru is a girl who has been home schooled for most of her life and she doesn't know what it means to be a teenager but when her dad gets a seizure and forgets his memory Peru's mother decides to send Peru and her sister Grace to school. While she's at school, she finds herself the odd one out and the only person who is nice to her is her art teacher who she falls in love with… Love lessons is a great book and I recommend it.
June 2009
Reviewed by Sarah, 13
This book/movie is very unique and amazing i like this boo because it is so realistic and i am so able to relate to it. Gergia is such a funny person with an outgoing personality that anyone would die for. the SG is so hot and is so cute i think that he is one of the best boys that i have ever read about. mutti and vatti aka georgias mother and father are so cute and loveable they try so hard to make her feel good and happy.
overall i rate this book majorly and think that any sane girl should read be given the privelege to read this amazing book.
June 2009

Reviewed by Jo Murgatroyd, 15
Can the unlikeliest of friendships survive the ravages of war? I'm not entirely sure, as Tamburlaine's Elephants by Geraldine McCaughrean failed to answer the question written on the back of the book. In fact, the friendship claimed to exist between two main characters  seemed to me to be a very warped view of friendship, and like the rest of the book leaves me asking, what was the author going through while writing this book?
Rusti, a young Mongol warrior in Gungal Emir's army, meets Kavi a tajik, or foreigner, in the midst of battle and soon a mutual friendship is formed through the elephant they have been charged to look after. Then, under orders to kill all prisoners and foreigners in the camp, Rusti, unwilling to kill his friend, sends them away into the desert where he hopes they will find their way home. Days later the army attacks the city Kavi has fled to, and plundering all people and things in it he is recaptured, but this time in the disguise of a girl. Rusti recognises him and takes him back to stay with him, and from here the plot and relationship between the two sours.
The theme of this story seems to be misunderstanding, with all of the main characters not understanding each other or something around them that's going on. Kavi is consumed with hatred for the Emir, as is Rusti with the only difference being Rusti's hatred is either under-developed or too soft to be really called hatred. It is hard at times to understand what the author was trying to convey; even in the last chapter  she switches into a totally different tense which threw me and left me confused for a couple of seconds, seconds which make or break how I view the book and whether I want to keep reading.
I didn't really  enjoy this book as much as I expected and to me the plot wasn't as strong as what it could have been. Possibly Mrs. McCaughrean was a little rushed in the writing of this book, that would give reason to some of the discrepancies I found in it. However, if you are interested in early Mongol history or just like a good, gory historical tale then this would be the book for you.
June 2009
Reviewed by Jo Murgatroyd, 15
Red blood flowing thick and fast from their swords, the iron masks of the brave men coming through the mist like ghosts, and the certainty that they would die this day. Never before have I read such a compelling and heartbreaking story, of a King sacrificing his loyal men for a few more years of peace, and the journey that those men had to make, sticking together in brotherhood till the end. Written by Rosemary Sutcliff, it is an old book that the library only just still loans out. Put on the Stack collection, (some of the best books are hidden away there) I found it and read it for school only to be mesmerised by it's beautiful prose and solid plot line.
Set in Britain some years after the Roman Empire's demise, Prosper, the second son of tribe leader Gerontius, follows Prince Gorthyn to the King's household, swearing loyalty to the king like his master. But the company of over 300 realise too late that they are held under siege with hardly a chance of survival, put in place to die a losing battle. All that remains is for them to decide when and where they will die, and how many of the enemy they will take down with them. Will anyone survive to tell the tale? Find out in The Shining Company, available through a library catalogue near you!
June 2009
Reviewed by Jessica Nawisielski, 14
Violence 101 is a novel about fourteen year old Hamish Graham. A boy from an unremarkable middle class family, who has an inexplicable violent streak. Hamish is extremely intelligent, and is obsessed with Charles Upham, Alexander the Great and Te Rauparaha. He has a taste for trouble and a fascination with war/military strategies.
Hamish has a strong hatred of those he considers stupid, and has been tested for almost every possible psychological condition which leaves him the way he is. But all results show that Hamish's brain is fully functional. His reactions to certain events are unknown to Hamish, as when he gets angry- he sees only colour, and it is this lack of control over himself which bothers him. Although this tends to happen, Hamish is often fully aware of his actions- and like his reaction to the fight which occurs just after his arrival at the New Horizons institute- and sees them as very sensible. "I told her that Victor and his mates would have teased me mercilessly for weeks, and so sticking a fork in his face and breaking his nose was a very rational solution. They should've been very pleased that I had limited the problem to one incident rather than let it go on for months..."
All of the other staff, (mainly Mrs. Grenville and Mr. Whittle) think that Hamish's actions are uncalled for and that the boy has some issues - only Terry sees Hamish's point of view. Mr. Wihongi, an ex-army recruit and now Physical education teacher, instructs Hamish in Taiaha, and this inevitably ends in disaster - but not always for the reasons most assumed.
Mr. Wihongi inspires Hamish - although VERY indirectly - into attempting a dangerous and wonderful feat, in which Hamish will have to decide whether he wants to change, or stay the person he was when he arrived at New Horizons.
So who is Hamish? Why is he both arrogant and yet strangely compelling? And why is he able to control the other boys? Find out, whilst touching base on some important and relevant issues, and discovering the importance of people who aren't what society would deem..."normal".
This is my favourite book, because it is very real. Many books nowadays focus on the fantastic, unreal realms of the author's imagination, but Violence 101 is incredible because it is exactly the opposite. It doesn't take much more than a troubled teen to inspire a person reading this novel to imagine that there is or has been a Hamish living next door to them. Hamish is a real and very identifiable character, and anyone who reads about Hamish will be hard pressed NOT to find an aspect of themselves hidden in the many turns of his unique personality. This book is a brilliant first novel, and is also fittingly written by a high school principal, someone who would have alot of experience with teenagers, which in turn adds another realistic element to the novel.
I recommend this novel for anyone 14 and up. I rate it ten out of ten, for sheer brilliance!
June 2009
Reviewed by Courtney Reid, 14
Molly Moon is a young girl of 11 and she is already a master hypnotist, time-traveller, and can also stop the world. Molly, Petula and Rocky her best friend go back about 250 years to try resuce her twin brother Micky who was abucted when he was only a baby at the Briersville Hospital, when they follow a strange man they end up in the mountains at this place Mont blanc, after a while Molly finds her brother and dehypnotises him and confinces him to come home with her and Rocky. I really enjoyed this book and would recommend it to other young readers who enjoys adventure books.
June 2009
Reviewed by Nicole Harris, 15
Chloe Saunders thinks she's just a normal girl until one dream changes everything. Suddenly she can see people that aren't there … Ghosts. Nobody will believe her, I mean nobody can really see ghosts can they? Then suddenly she is thrust from normal life into Lyle House a place for mentally unstable teens. A place where labels are the things that make you better and Chloe is no different. Her label - schizophrenia. After labeling the next step at lyle house is getting you on the meds. Can she ever survive this place? And just when she seems to be getting better her life takes another turn and she realises they are no ordinary teens. They are supernaturals and Chloe has a new label necromancer and the others are no different. Now she's in for the ride of her life finding out that not everyone is as they seem.
This story is a great one for anybody that loves the supernaturals such as vampires, werewolves and demons. So Twilight fans this is for you. If you've seen some of Kelley's other work you'll know this is her first teen book but it as every bit as thrilling as her adult ones. This is perfect those that aren't ready or mature enough to take the leap into Kelley Armstrong's adult fiction. This book is exactly like her 'women of the otherworld' series except with teenagers so therefore teenage problems along with being superaturals. I think this book is more for the girls as it's from a girls point of view so in some places it can be a little bit girly particularly at the start but from then on I think it's a book anyone would like. I found this book thrilling and am ready for the next in the series. So what are you waiting for? It's in stock at the library so go put it on hold!
June 2009
Reviewed by Olivia Sidrak, 12
My Sister's Keeper is an amazing novel about love, worry and being invisible. 13-year-old Anna isn't sick but she might as well be. As she gets older like all teenagers she starts to question herself about who she is but unlike those in her age group she wasn't conceived as a result of an accident or to keep a marriage together but to be a perfect match and donor for her older sister, Kate, something she has never rejected or questioned before. Through her life Anna has always been ignored by her parents unless they want her to donate something for her older sister. But she finally puts a stop to her pain.
June 2009
Reviewed by Anastasia Loeffen, 11
Hush is one of my favourite books. It is a different kind of read than usual books but i like it. It's about an Irish princess named Melkora who's brothers' hand is cut off by young boys that gamble. She is offered marrige and jewellery for to pay for her brothers arm from a rich man. Her father plans an attack on the man and the boy. While she and her sister Bridget have to go in hiding for a time period and while they are hading everything goes wrong and they both get stolen onto a slave ship where a man sells them off as slaves. One day her sister jumps off the ship and escapes. The man who stole her (who she calls clay man because of his scent) finds her treasures that her mother had packed for her to give her luck. Then clay man doesn't want to sell her because he thinks she's special.
June 2009
Reviewed by GM, 12
It's 1895 and Gemma Doyle's life is about to change. After the death of her mother and these strange vision that happen to come true next thing she knows she is shipped off to a boarding school in England.
At Spence her power to attract the dead becomes more powerful and she becomes friends with some of the schools most powerful girls. And who is the mysterious young man following her?
June 2009
Reviewed by Annamarie Moot, 14
I really think that Peeps is a great book. It has great descriptions of the inner workings of vampires and shows how not every relationship are how they seem. Cal and Morgan's conversations are very funny and intellectual. The concept that the parasite is carried by rats and sex rather than just old fashioned biting wth fangs is very cool and it makes this book very different to other vampire stories around (Sorry Twilight). Even though its spooky in some places it makes the story really interesting and my favourite part in the book is when Cal goes underneath Morgan's apartment into the pool is gripping, and its a vital part in the book when you learn about the peep cat. Its a great book and i give it 5 stars.
June 2009
Reviewed by Holly Alfeld, 12
Hannah lives in a family of 5 also not to meantion her gran,and has a best friend named Ursula. Her and Ursula go and get there palm read. Hannahs shows a large ammount of money with danger. Soon after that Hannahs family wins 6 million dollars! She thinks it will be great but when her best friend turns away from her and she is buying her friends and quiting the netball team its not working out as well as she hoped it would. When they start to rieceive nasty phone calls and Gran is kidnapped! I can't get much worse. Can it? A great book I recomend to everyone!
June 2009
Reviewed by Phoebe Schilling, 13
'There was a man, he had a knife. He was trying to attack us by the river.'
It was a 'harmless' lie.
Anna, Emma and Mariah, three best friends made up a story about why they were late getting home one night. Their parents' anger turns into worry. Suddenly the police get involved and they want someone punished.
A man gets arrested and accused of a crime that never happened.
This book is about teens being stupid and getting caught and trying to find their way out. This book is something anyone can read. You can't resist!
June 2009
Reviewed by Holly Alfeld, 12
Jacob is a boy who has been moving all around New Zealand. He has trouble settling in to new schools making friends and avoiding bullies!
When Jacob finds out he has some kind of super power he really is a "Super Freak".
A great book that you want to keep on reading!
June 2009
Reviewed by Anna Kennedy, 13
Pip and his Dad are on the way home from soccer where his team won 3-2. He starts to talk to his dad about him being embarrassing at soccer but he chickens out. I think this chapter, Family relationships, best illustrates the theme because it starts to show the anger growing Pip towards his Dad and how he tends to like his mother more then his father. I was first surprised reading this chapter when little Pip was nearly about to tell his dad how he felt but then didn't. I think the author tells the readers that it is best to tell people what you think in stead of bottling it up. And that all families are different.
May 2009
Brisingr by Christopher Paolini
Reviewed by Nick Handley, 14
Brisinger, the third book in the Inheritance Cycle by Christopher Paolini, brings the story once again back to Dragon Rider and Dragon, Eragon and Saphira. Only a few days after the battle of Burning Plains Eragon is on yet another mission: This time to help his cousin Roran rescue his Fiancée Katrina. After that mission, he then must help the dwarfs elect a new ruler and he must continue his training with their elders Oromis and Glaedr. But these things are far from simple, as he must deal with family issues, assassination attempts on his life, and learning a new important detail about his family line.
I personally love the other two books Eragon and Eldest, so I was incredibly anxious to get this one once it came out. Once again, I was not disappointed. Paolini always makes sure to make every book different from the others, with new characters, conflicts and twists to every turn.
The positive parts of the story are that it is still a wonderful story for people of all ages. Honour, family, bravery, honesty and love are all supported in this, none are made fun of or just shoved aside as old fashioned. Bad guys are still bad guys, but some have been redeemed and accepted at allies. Good guys are still good guys, but must face challenges of their own. Both Roran and Eragon have their own problems to fight and deal with.
However, this story does have its share of negative elements as well. Since Christopher Paolini is now about 20 or 22, he has begun to include things of a more, adult nature in this book. References to sex outside of marriage, within marriage and male body parts are put in there. Language is still not a problem.
This book is a wonderful read, but if you fear that some things may not be suitable for your children, then I would suggest that you read it first and then give it to them. That way you know exactly what they are in for.
May 2009
Reviewed by Jessica Anderson, 15
The story starts off, set in London with Eloise Cribb hearing the news that her husband's ship has been lost at sea. With two small children to raise on her own, Eloise wonders how she is going to cope. With the rent overdue and almost no money to live on, she has no option but to turn to her in-laws that live in Yorkshire, for help. Eloise is not treated well and she finds living with her in-laws is a lot harder than she could ever imagine. After a while she is told to go but must leave her children behind, Joseph (Joss) and Elizabeth (Beth). It is then about Eloise and her children's survival as well as being on the run from her in-laws.
May 2009
Out of the Black Shadows, by Stephen Lungu with Anne Coomes
Reviewed by Jessica Anderson, 15
This novel is about Stephen Lungu and his testimony of how he found Jesus. I thought the name Out of the Black Shadows suited the book as when Stephen was about 13 years old he joined a gang called Black Shadows.
I felt sorry for Stephen, when he was living with his aunt because his mother had left him and his younger siblings to defend themselves on the streets, when he was barely 5. His aunt took them in although she didnâ't want to but she felt she had too. After a while his aunt got sick of having the kids and she would beat Stephen if he did the slightest bit wrong and would make him sleep in the chicken coop. This made Stephen decide when he was about 10, that he would rather sleep on the streets.
One day he was out with his gang and they were planning to throw petrol bombs at a Christian meeting when Stephen decided to go in and listen to what the speaker had to say for a few minutes. This must have tugged at his heart as he stayed for longer and gave his heart to the lord later that night.
This book is amazing and heart stopping.
May 2009
Reviewed by Luke Wattchow
I thought that the Monkey's Paw was a great story. I think this because it is a revamped version of Aladdin - with a dark twist; an example of this is when Mr and Mrs White's son, has an accident in the machinery his buisness - Maw and Meggins and tragically dies - 'Your son has been badly hurt...he feels no pain' (he's dead).
Another thing I like about the story is short and sweet, while having lots of action and thrill - 'With his third wish, he wished for death'. The over encumbering tension in this story is also brilliant, making the hairs on the back of your neck stick up like spikes on a hedgehog, while sitting on the edge of your chair. This story can achieve this because it uses great, in-context words such as 'grimly', 'haste', 'strange', 'consequence' and 'death', which magnify this feeling.
This story has a great storyline (in my opinion), but probably the only thing about this story which possibly lets it down is that it is a bit too short. Of course this is to be expected in a short story, but I feel they could have made it just that little bit longer to accommodate and jam in more tension. I believe the story has great amounts of detail, which also affects the great outcome of this story, for example, and I quote 'At the third glass his eyes got brighter' is great in context because it shows he is more willing to talk about things which he might normally not. T
he final thing I liked about the story is that it leaves you wondering at the end, about multitudinous things, such as what I would do with three wishes and how you would attempt to word them so they would not harm anyone or anything you hold dear. It is a great story and I would definitely read it again if I had the chance.
May 2009
Reviewed by Mikayla Gale, 14
This series is a fun filled adventure. Jason, Rick and Julia have just moved into Kilmoore Cove. They are now living in a strange house called Argo Manor,and have discovered a door which leads them to a big ship called the Metis. This ship can take them anywhere around the world, any time: past, present, future! But evil Oblivia Newton wants to take the ship over and rule the world. This book is the next Lemony Snicket with even better twists. It will be the next motion picture film! Trust me, you wont be able to put it down!
May 2009
Reviewed by Sophie J, 12.
This is an amazing book. Its about two teenagers living in a world where black is right and white is wrong. When Sephy (a cross) falls in love with her nought best friend Callum, they have to prove that its about who you are, not what you look like. A fantastic book, quite similar to the Twilight Series. Highly reccomend as it is is beautifully written and really makes you think. 10/10.
[Note: This book is also available as a Playaway title and audio book]
April 2008
Reviewed by Mat Cox
This has got to the best series of books I have ever read. There is hardly a dull moment when reading these books. HIGHLY RECCOMMENDED!!!!!!!
March 2009
Reviewed by Bronwyn
I have to fess up first off that I mainly chose this book to read because the cover has heart-shaped lollies on the front. It came as a bit of surprise, then, to discover that it wasn't at all to do with sweeties, but was instead a book about nerdy Vespa-riding James and his struggle with a heart condition, his younger bad-boy brother Ryan, and hot-but-dangerous chick Roxy, and is based on a true story.
Set here in Christchurch, About Griffen's Heart turned out to be a surprisingly good read, sweet and funny in an understated way, but with a big plot twist and a not too cheesy ending.
The characters are well-drawn, if a smidgen clichéd, and there are as many shades of ambiguous grey in their actions as there are blacks and whites. I particularly liked James' quirky (and mildly worrying) obsession with the smell of girls' hair, and the way that not everything is neatly tied up in the end (just like life!).
This would be a great read for a rainy weekend, or you could even (gasp!) use it for that nasty NCEA stuff.
March 2009
reviewed by Sophie, 13
OMG OMG OMG this book is amazing seriously its incredible.I would recommend to girls aged 12 and up. Its gorgeous stephanie meyer would have to be the best author ever. New Moon is so sad but its awesome too. You HAVE to read this book!!Plus the movie rocks!!
March 2009
Dark Horses by Heather Cato
Reviewed by Ashleigh, 12
A great book that i read due to a review on Pulse!!! Has a great storyline and had me reading at 11pm at night still trying to wait for DULL MOMENT which never came! Heather Cato is a great author and this book highlights all aspects of that sort of life! Recommend to anyone who is in search of a great book!!!
March 2009
Reviewed by Sasha, 11
This book is set in the future when you turn 16 you get an operation that makes you supermodel pretty. Tally Youngblood is about to turn 16 when she meets Shay whom she shares her birthday with. Shay isn't sure she wants to turn pretty and runs away to the Smoke. This book is the first of a trilogy. It was really intresting and I couldnt put it down. I was sick when i started reading it and on that day i probably read it for 5 hours.(Not all at once.) I can't wait to get my hands on the second book.
March 2009
Reviewed by Ashleigh, 12
One of the best books I have ever read! A book you will never want to put down!!! It is the 2nd book in the inheritence trilogy and kicks off with a sudden death!Then as Eragon heads off with Ayra to Ellsmera the training begins with a few surprises along the way!!
A must have and a great book for people who also like Harry Potter and Lord Of The Rings.
March 2008
Reviewed by Neeti, 14
How is it when Ellie sees Will for the first time, that she knows she has known him forever? A legend reveals itself in this book. Although Avalon High, a high school Ellie tranfers to feels harmless enough, its legend is about to unfold. Could Will posibly be King Arthur or Ellie just lost her mind? This book is a must read, it is the BEST book by Meg Cabot that i have read so far! U won't be disappointed!
February 2009