Your reviews
Have you read something great lately? Tell us all about it and we'll publish your review here.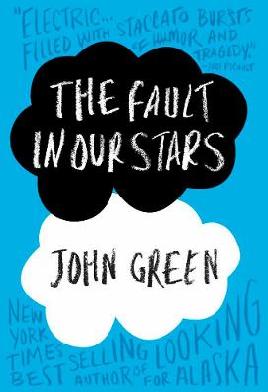 The fault in our stars by John Green. Reviewed by Mary.
The fault in our stars is about a girl named Hazel who is 17 and fighting with cancer. Once a week she goes to cancer kids support group with a depressing leader named Patrick. It is not something she particularly enjoys but her parents usually force her to go. One day a boy joins named Augustus Waters. Hazel quite fancies him. It is very obvious that he likes Hazel back the way he kept looking at her. They become very close. Soon Hazel's whole world starts to change.
It is not a very emotional book until the end. In the book there is not much tension built up to when it happens, but people who have watched the movie have come out of the cinema crying so I think the movie is a lot sadder.
There are a lot of words I have not heard of before but it was great to learn some new ones. This book is written by a famous author, John Green. He has written a few other books too, but there is no sequel to The Fault In Our Stars.
I recommend this book to anyone who likes beautiful but not perfect romance story books. 12 and over. It makes you want to go back and grab some more. So go out and buy this book! You won't regret!
10 June 2014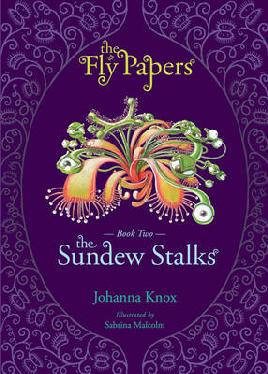 The Sundew Stalks by Johanna Knox. Reviewed by Tierney
Danger, wrestling, mutant plants and epic adventure; welcome back to Filmington. The Sundew Stalks is the sequel to The Flytrap Snaps, continuing popular NZ author Johanna Knox's The Fly Papers series.
Tora de Ronde has been a BodySlam wrestler all her life; she trains every day after school under the proud gaze of her father. Little does her father know that Tora lives another secret life only she knows about. When Tora's secret leads her to a laboratory full of carnivorous plants, she stumbles upon a complex mystery that will show her who the real bad guys are in Filmington...
I was very pleased that The Sundew Stalks was written from the perspective of Tora de Ronde, as she is clever, brave and a strong heroine. Having the second book written from a different point of view is also quite refreshing. Johanna Knox has very cleverly made The Sundew Stalks match up with The Flytrap Snaps - the second perspective makes everything start to fit together; questions are answered and mysteries are solved. 
The book also introduces one new character in particular; Dross, the mutant sundew. Dross is just as moody and hilarious as his relative Dion in The Flytrap Snaps- you will instantly fall in love with this charming carnivorous plant.
The Sundew Stalks is even funnier and more addictive than the first novel. Readers won't be able to put it down as they begin to unravel the mystery of Filmington, Jimmy Jangle and the Fly Papers.
14 October 2013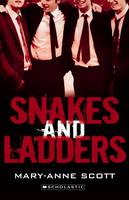 Snakes and ladders by Mary-Anne Scott. Reviewed by Tierney
Snakes and Ladders is a finalist in the New Zealand Post Children's Book Awards, and is written by Mary-Anne Scott. Set in New Zealand, this book follows the story of Finn. Finn is your average teenager- or at least, that's what he will tell you. Ever since he moved to a new, expensive school, Finn has taken on another life by keeping his previous one a secret. After all… who needs to know that his father is on trial for killing a woman? Although Finn is skeptical about this "posh" school, he quickly makes new friends and joins the school orchestra, where he meets Mia. Perhaps his mother was right about sending him away from all of the chaos at home. Pleased to have a fresh start, Finn continues to keep his secret- but soon it becomes clear that he is not the only one who knows. As rumours begin to spread, Finn struggles to keep the truth under cover. Will he manage it, though? Can he cope with the pressure of living two lives? Is it worth this much effort to tell his friends so many lies? When Finn attends a party after his school ball, everything is changed. Readers will be impressed by the believable characters that carry out the story of Snakes and Ladders; they each seem so unique yet so easy to imagine. Finn, Mia, Eddie and all the others are the sort of characters that readers will root for, despise, pity and love. Snakes and Ladders is written with a subtle but clever sense of humour, as demonstrated here:
"That sucks!" Mia sighed into the phone. "What sort of work?"
"Stripping."
"Ohmigod! How much do you take off?"
"All...well, as much as we can reach, but we're supposed to strip completely."
"Who pays?"
"The guy who owns the orchard, obviously."
While the humour and tension of Snakes and Ladders makes it a novel well worth reading, be warned; the book progresses very slowly, making it a bit difficult to get into. That said, you will love the strong amount of suspense! If you want a read that you will enjoy reading over and over again, try Snakes and Ladders - you won't be disappointed.
14 June 2013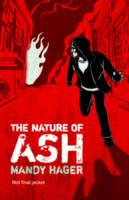 The Nature of Ash by Mandy Hager.
Reviewed by Tierney
The Nature of Ash by NZ author Mandy Hager is a thrilling read; a finalist in the New Zealand Post Children's Book Awards in the Young Adult category. It tells the story of Ash McCarthy, who is enjoying living in a student hostel. When the police make a visit to the hostel, his life is changed forever. His father has been killed by a bomb that destroyed his workplace.
Ash returns home to Wellington, to his little brother Mikey who has Downs Syndrome. Still trying to understand what has happened, Ash stumbles on several threat letters and a hint that his long-dead mother may in fact be alive. While his world is turning upside-down, the outside world is too; New Zealand is on the brink of war.
Suddenly no-one can be trusted. Ash finds himself fighting to protect the lives of Mikey, himself, and friends Jiao and Travis. Drowning in mystery and lies, Ash must learn the truth, or lose everything. As the urgency of their escape grows, the stakes become higher and higher. Danger laces their mission to survive, and the enemy could be anyone.
The Nature of Ash is a phenomenal book, which deserves the highest praise for its' wonderful characters, unique voices and almost unbearable suspense. With a fast pace that has you racing to reach the end, the tension and thrills of Mandy Hagers's novel are sure to grip readers. You will be stunned by the sharp twists; this chilling rollercoaster read will have you on the edge of your seat. I highly recommend The Nature of Ash to older teens and adults, too. This is not a tale you will forget in a hurry.
24 May 2013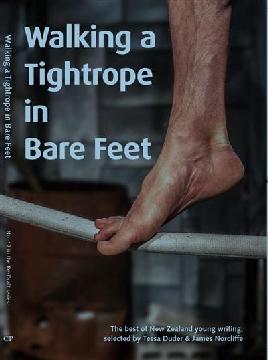 Walking a tightrope in bare feet Re-Draft
Reviewed by Tierney, 13.
"I am nothing but a thoughtful girl nestled in this milky way of a world where reality is complicated and Dettol kills 99.9% of germs..." (Reality by Lara Watson)
Walking a Tightrope in Bare Feet is the 12th book in the ReDraft series. For those of you who don't know, Re-Draft is an annual writing competition for teenagers. Every year, hundreds of teens submit their best stories and poetry in the hopes of making it into the book; it's NZ authors James Norcliffe and Tessa Duder's job to choose around 50 of the very best pieces for the latest ReDraft book.
Every ReDraft book is packed with dozens of beautiful pieces; I wasn't surprised in the least that Walking a Tightrope in Bare Feet was just as wonderful as the previous installments. It brings together a range of unique styles; a mad mixture of strong flavours, combined to create a taste that will linger in your mouth and mind. From haiku to fairy tales, laments to science fiction, this collection brings together the funny and the bizarre, the chilling and the tragic, the shocking and the magical. It is a selection of the freshest, wittiest ideas that these winning NZ teens have to offer; you can be sure we will be hearing more from these young writers.
Most of the Re-Draft books are available on the library catalogue, including Walking a Tightrope in Bare Feet, so get one out, sit down and sample some of these fantasic pieces!
4 April 2013
Ghost Hand Ripley Patton
Reviewed by Tierney, 13.
If it wasn't for her hand, Olivia Black would be a totally normal teenager. PSS is a rare birth defect that affects only a few people around the world. Olivia is about to learn that her hand is not just some freakish flaw; she can do things with her hand that could damage and even destroy lives.
Everything begins to unfold when Olivia meets Marcus, the new boy at her school. When her ghost hand first demonstrates its power, Olivia is bewildered and terrified that she might harm – or even kill – her mother or best friend Emma. Soon after this, she learns of mysterious people who will do anything to get her powers. When one of them attempts to kill her, Olivia must escape with Marcus, who seems to know a great deal more about the men chasing them than he is letting on. Going home is not an option, but how is she supposed to trust a stranger with her future when he won't reveal anything about his past?
Ghost Hand is the first book in a trilogy, written by Ripley Patton. It is a paranormal romance/thriller, full of mystery, twists and surprises. Each paragraph is something special. Readers will be obsessed, staying up late to finish this action–packed read.
I would recommend it to readers aged 13 and up. Olivia Black is caring and brave, although I thought that she didn't take very many risks, and was constantly being protected rather than fending for herself. Other than that, I thought she was a likeable, strong character. If you are looking for a novel that will leave you wanting more, try Ghost Hand – you'll be dying to read the next book!
9 January 2013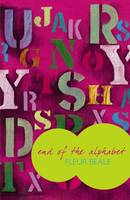 End of the alphabet Fleur Beale
Reviewed by Tierney, 13
I love each and every one of NZ author Fleur Beale's novels, but End of the Alphabet has to be my favourite. It is the story of Ruby Yarrow; a fourteen–year–old girl who lives in the shadow of her younger brother Max. Max is smart, talented and adored by everyone. Ruby struggles at school and is always busy at home. She cares for her little brothers, cooks the dinner and cleans up after Max. One day her best friend Tia puts her foot down – she is sick of Ruby being a doormat. Her outburst gets Ruby thinking… does she want to live her life being treated second best? Of course not– so begins Ruby's journey to find her backbone and start standing up to people.
This book is truly outstanding, one of my favourite of all time. Ruby is one of those characters that you can instantly relate to. If I could meet a character in one of my books I'd want to meet Ruby. She's just so likeable and so easy to understand. As the book progresses it's easy to see how Ruby has changed.
If you're looking for a read that you won't want to put down, choose End of the Alphabet! It's a book that you'll want to read again and again.
December 2012
TumbleBookCloud
A free online collection of e–books, graphic novels, videos, and audio books. Use at a library or enter your library card & password / PIN. Colleen reviews it.
December 2012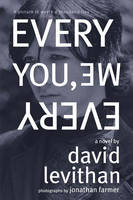 Every you, every me by David Levithan
Reviewed by Marionthelibrarian13
I enjoyed this book, it was very cleverly put together but I wouldn't rave about it. It was good at keeping you guessing until the last minute as to whether Evan (the narrator) was going the same way as his best friend. You are unclear for most of the book about what actually happened to Ariel (his best friend) and what Evan's role in it was but he clearly feels guilty for his part in it. It was interesting the way they showed that you can't know every thing about a person, now matter how well you think you know them – even those closest to you. A really interesting take on friendships and what is best for someone.
December 2012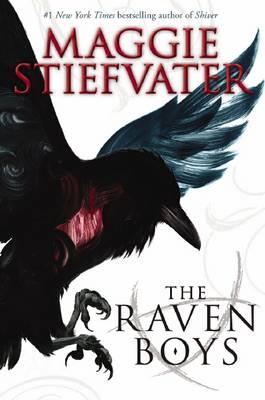 The raven boys by Maggie Stiefvater
Reviewed by Marionthelibrarian13
All I can say is – thank you Maggie for one of my favourite books of the year. But then I have to add – please write quickly – I'm having withdrawls from the characters already. I really enjoyed the Scorpio Races but the story and the characters in that were similar to the setting – hardy, windswept, chilly but passionate. The characters in the Raven boys felt like my friends. I loved their foibles and eccentricities. There was a gentle humour running through all of the action.
December 2012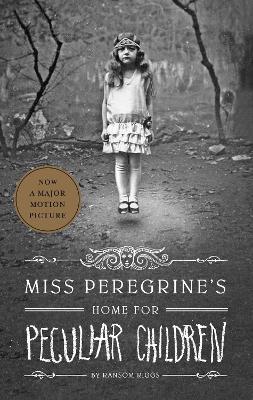 Miss Peregrine's home for peculiar children by Ransom Riggs
Reviewed by Marionthelibrarian13
I enjoyed this book to an extent. Had great potential but I don't think it quite made it. Can see how it may carry on as a series but the plot line would need to be tighter and more cohesive. The photos were good and creepy and embedded well in the story but also why the story doesn't come together as a whole.
December 2012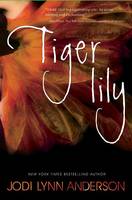 Tiger Lily by Jodi Lynn Anderson
Reviewed by Marionthelibrarian13
This is a far cry from Disney's take on Peter Pan but not so far from J. M. Barrie's. It is a dark tale where first love is lost through pride and misunderstanding, but never quite forgotten.
December 2012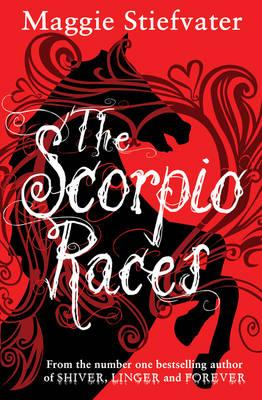 The Scorpio races by Maggie Stiefvater
Reviewed by Marionthelibrarian13
Dystopian style novel based around the water horse legend. Set on an isolated and wild island that seems like something off the coast of Britain but is mentioned as being off the coast of California in an alternative reality. Strong female protagonist meets strong male protagonist who bond over their love of horses of both the herbivore and carnivore varieties. All this with a bit of romance...
December 2012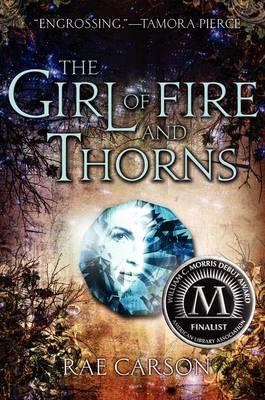 The girl of fire and thorns by Rae Carson
Reviewed by Marionthelibrarian13
This was a fantastic fantasy novel. This book had me suckered in from the beginning. Elisa had an authentic voice and it was inspiring watching her grow in confidence and become her destiny. I like how things didn't always go the way you expected. It would make a great movie.
December 2012
Saving June by Hannah Harrington
Reviewed by Marionthelibrarian13
I liked Saving June. I liked the friendship between Harper and Laney and the blossoming relationship between Harper and Jake. I like that they take a road trip with June and try to give her the kind of send off they think she would enjoy. I like that people who are quite different can get each other. That life isn't all smooth sailing but you hope that there is someone out there that can understand. However it did kind of make me want to liberate my Dad's ashes in some way and I don't know quite what to make of that.
December 2012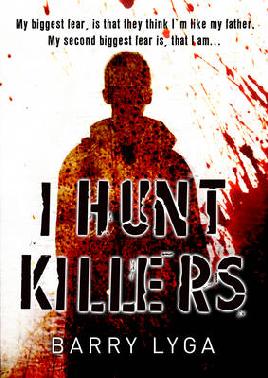 I hunt killers by Barry Lyga
Reviewed by Marionthelibrarian13
Looks as if this serial killer book is going to be serialized, which is good – I would like to see where it might head. The book was well–written and fast–paced with some angst thrown in – big time angst – am I a serial killer is a unique thing for teens to worry about. There was a level of suspension of belief needed towards the end but the rest of the book makes it worthwhile. A genuine voice.
December 2012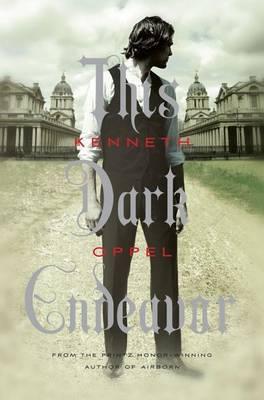 This dark endeavor by Kenneth Oppel
Reviewed by Marionthelibrarian13
I loved the idea and it was well executed and easy to read. It maintained a fast pace and there were some outright exciting bits and you are left guessing until the end. It makes me want to re–read Frankenstein. My only issue would have been the pet lynx was a bit hard to buy in some places – a bit too much suspension of disbelief needed. On the whole though I would recommend it, especially if it encouraged others to try classics.
December 2012
My life next door by Huntley Fitzpatrick
Reviewed by Marionthelibrarian13
I really liked the first part of this book but it went off in a few strange directions. You will love the romance in it, the relationship betweens Jase and Samantha and some of the scenes between the two of them definitely set the heart racing however, there there were twists that seemed too contrived rather than surprising. The second half of the novel I get what the author was trying to do and the idea is there – loyalties are tested in a number of ways but overall the ending doesn't work for me on the whole.
December 2012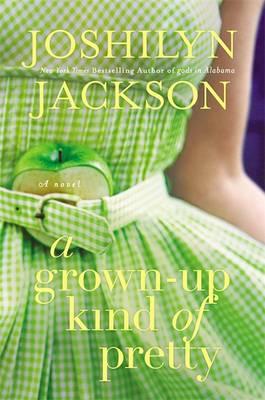 A grown–up kind of pretty by Joshilyn Jackson
Reviewed by Marionthelibrarian13
This was a great book. Interesting quirky characters, very readable, funny and sad in turns. It was a story about family and what it is to be a family in all their different forms. Friendship – sometimes the most unlikely people can be your closest friends. Also saving and being saved – a book of strays. All this and a bit of mystery thrown in. I would recommend this to teens as well, but be aware that there is sex and drugs. Having said that – in that sense it is a cautionary tale.
December 2012
Reviewed by Marionthelibrarian13
Origin was an interesting and exciting read. It definitely brought up all of the ethical dilemmas around genetic engineering and how much is too much in the pursuit of medical advancement – where do you draw the line. There is tension and mystery in the Amazon jungle and plenty to keep you reading. If anything the only thing that had me less than convinced was that some of the relationships in the story didn't quite ring true – otherwise it was a good read.
December 2012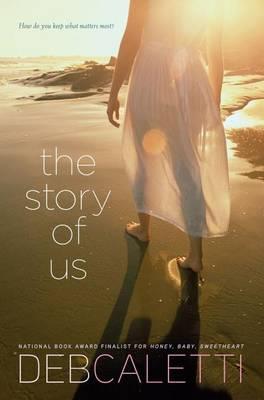 The story of us by Deb Caletti
Reviewed by Marionthelibrarian13
This book was ok. I didn't connect within the way I thought I might. There were a few elements that didn't quite work. Cricket seemed to be moralistic which didn't quite fit with the amount of cussing. I'm not saying good girls don't cuss but it didn't seem to suit the character. There was a lot of hinting at things that had happened but it is dragged out just a bit too much. Also don't know if the letters added much. Having said all of that I would try Deb Caletti's other novels.
December 2012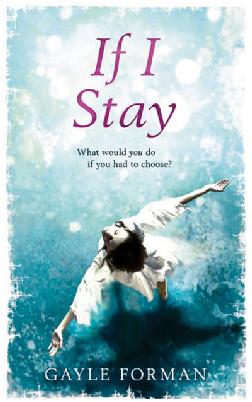 If I stay by Gayle Forman
Reviewed by Marionthelibrarian13
I have just finished this book while crying into my cuppa. I haven't had that type of a reaction to a book for a while. It's not that I haven't read anything lately that has been moving, it is just this moved me in the kind of way that you feel down in your chest. The story was beautifully written. After I had finished the book, I went on youtube to find a recording of Yoyo Ma playing Bach's cello suites. The sound of the cello (Mia, the narrator and main protagonist, is a cellist – the Bach comment makes more sense when you've read the book) on that piece of music made me feel like I did as I was reading about Mia's decision to stay or go. Beautiful and moving.
December 2012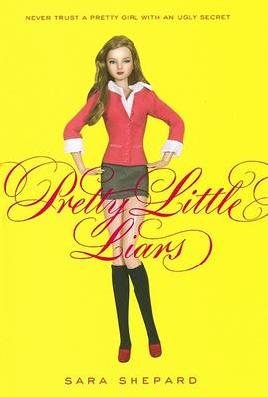 Pretty little liars by Sara Shepard
Reviewed by Marionthelibrarian13
I was first introduced into this series by seeing bits and pieces of the television series which was great. Unfortunately it was on at a time I only ever got to see snippets so I had a lot of questions. Having read the first book in the series I have even more questions – who is the mysterious A? What happened to Jenna? Are all of the girls' lives going to heck in a hand–basket? Looking forward to the next in the series but wonder how the premise will be maintained for another 12 books.
December 2012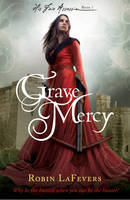 Grave mercy by Robin LaFevers
Reviewed by Marionthelibrarian13
Grave Mercy was a light read with lots of action and romance in a historical fiction section with a hint of paranormal thrown in for good measure. This would have been a four star read but some of the romance was a bit gushy for my tastes and I felt myself rolling my eyes a bit but that aside it was a well put together read that flowed well. I will definitely be reading the second in the series which looks as if it centres on one of the minor characters in Grave Mercy. I'm hoping it will be a bit edgier – the character of Sybella certainly seems to be a bit on the edge and it hints that she hasn't had such a good time of it on her assassin's assignment.
December 2012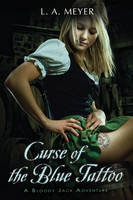 Curse Of The Blue Tattoo by L. A. Meyer
Reviewed by Tierney, 13
Curse of the Blue Tattoo is one of my favourite books of all time. It is the second book in the Bloody Jack series by L. A. Meyer. The Bloody Jack books are accounts of the misadventures of Jacky Faber, an orphaned girl who grew up on the streets of London.
In the previous book, Jacky had gotten a job on board the HMS Dolphin, disguised as a ship's boy. There she made friends with the other ship boys, learnt to speak different languages, ate weevil–infested biscuits and fought pirates in bloody battles. Jacky had finally found a home, made friends and learnt where she was most comfortable … but this was not to last. It was soon realised that Jacky was in fact a girl, and so she was torn from her new life and taken to Boston, to be raised as a proper lady.
Jacky knows from the minute she sees the Lawson Peabody School for Young Girls that she won't fit in. She is squeezed into a proper dress, sat down at a table for her first proper meal (and is immediately baffled by the heap of cutlery at her plate), and taken to her first lesson on how to act, talk and look proper. To add to her misery, the HMS Dolphin has set sail, and is now far away. She writes to her betrothed, James (Jaimy) Fletcher, who was a ship's boy with her before she was discovered. Will she ever see Jaimy and her other friends again?
Jacky remembers her promise to Jaimy to try her best to do well, and so bravely makes attempts at needlework, using manners and achieving the school's trademark Look (a look of supreme confidence). This doesn't last long, and Jacky is soon fighting with the perfect, obnoxious Clarissa Howe, sneaking out into town, dancing and performing at inns … trouble seems to follow Jacky where ever she goes … as does adventure and mystery.
Jacky's new friends are afraid of the admittedly creepy Preacher, who lives next door – and they seem to be concerned for Jacky's safety. Jacky, of course, is not one to sit around waiting for answers, so she begins to investigate, unravelling a dark secret. As she learns more, the stakes become higher — Jacky must be careful if she doesn't want to receive the same fate as the mysterious Janey Porter …
I loved this book's sense of danger and adventure, as well as Jacky's character, which is poured into every word she says, every thing she does. L. A. Meyer has done a wonderful job of describing the characters. Each one stands out, and there is a great range of characteristics; from the melancholy Amy Trevelyne to the daring Jacky Faber herself.
Curse of the Blue Tattoo is an enthralling read. It would be best for kids aged 13 and up. I love reading about Jacky Faber and her adventures — they are strangely addictive. My best friend Ella and I are possibly her biggest fans. The latest book, Viva Jacquelina, is in the library catalogue now, as are the rest of the books in the series, including the first book, Bloody Jack. Please give the Bloody Jack series a chance, you will be a fan for life if you do!
21November 2012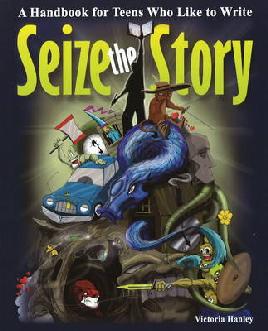 Seize the Story: A Handbook for Teens Who Like To Write
Reviewed by Tierney, 13
I was thrilled to discover this book at the library. I love to write stories, and am always looking out for writing books — especially ones written for teens, although they are rather hard to come by.
Seize the Story by Victoria Hanley is a guide to writing structured stories which include all of the necessary elements required to create a great read. Each chapter is dedicated to a different element; for example, Creating Characters, Writing Dialogue and Polishing Your Writing. The chapters are packed with fun exercises, new ideas, tricks and tips. Very short pieces of prose are used as examples.
A feature in each chapter is Building Your Story. The reader is given a writing exercise, such as: Imagine a scene for your story where the protagonist's life is seriously disrupted. Write that scene, getting things moving, shaking things up and bringing on trouble.
The idea is that by the end of the book the reader will have produced enough material to form a story. I am currently working on my own story, using the exercises. Victoria Hanley's simple explanations make it easy to understand, and the tricks and methods can be applied to all stories.
There is a section at the end of the book where Ms. Hanley interviews 15 authors. They reveal their writing secrets, and a list of their novels is provided for each interview. These interviews are followed by Questions and Answers. Victoria Hanley answers questions about publishing, writing rituals, titles and self—discipline.
I found this book an enlightening read. It is a practical, yet fun book, which unravels complex plots and writing terms, simplifying the writing world. If you want to become a better writer and learn of new ways to write gripping stories, then find a copy of Seize the Story — you will be glad you did!
19 November 2012
Reviewed by Tierney, 13
The Half Life Of Ryan Davis by New Zealand author Melinda Syzmanik is a gripping book. I read it in a day. Each twist caught me by surprise. By the end, I was thrilled and satisfied.
Ryan Davis is your average fifteen—year—old boy; he likes skateboarding and hanging out with his mates. However, his life will never be normal. A three—year—old mystery haunts his family and his home. Ever since his older sister Mallory went missing, things have been different. His parents separated. His little sister Gemma has started wearing make—up. Constables and investigators often visit, teasing the Davis family with particles of evidence and whispers of hope.
Worst of all is Ryan's mother. She is convinced that one day Mallory will come home to them. She refuses to let Ryan get a job, declaring it is unsafe, and is furious if Ryan is late coming back home. She constantly reminds him how perfect his sister was, and when he does something wrong, she compares him to Mallory. Ryan is in the shadow of someone who has been gone for years. How could his mother still love Mallory more?
Meanwhile, under his mother's disapproving glare, Ryan is growing up. As he attends the school dance, tries to secretly get a job and meets a very nice girl called Kim, his mother becomes more and more protective. Ryan begins to suspect that someone is watching him. As he fights for freedom, a secret is about to be uncovered. The Davis family will never be the same again.
The Half Life Of Ryan Davis is a wonderful read. If you like books with likeable characters, a structured plot and a shock or two at the end, then this is for you. I did think that Ryan was quite grumpy, even sulky, around the middle of the book, though.
This book is of a similar style to pieces by Tessa Duder and Phyllis Reynolds Naylor. The main characters are normal, everyday people who the readers can relate to. Having teenage main characters seems to be more appealing to teenage readers because of this.
I would recommend this book to all teenagers! It is definitely worth a read.
November 2012