Author pulls no punches with war stories
Ken Catran is taking no prisoners with his latest book, Monsters of Blood and Honour.
There's some graphic and gruesome accounts of death and destruction during World War II, and the Waimate-based author is making no apologies.
"I'm trying to make kids understand that war's a violent, horrible and messy business," he says.
Monsters of blood and honour is three separate stories of young New Zealanders meeting up with war veterans. The veterans were teenagers themselves when they went to war.
Larrakins and Lancasters
One of the first characters in the book is Fred Parkin, who flew Lancaster bombers during World War II, but now battles the 'delinquent' teenagers who ride loud motorbikes past his house late at night.
"The characters are really an amalgam of people I've met when researching. A lot of people are now on their own and some of them are hard up – and yet they gave the very best years of their life to the country. For me it's an interesting thing – I've met (Parkin's) type and they see some of these young blokes today and say 'if they knew what we went through, what happened to us, they wouldn't quite feel so hard done by.'
"They were living, in 1943, an extremely violent and hard life. Every night when they took off they didn't know if they were coming back or not. And the odds were they would not come back – statistically the odds were they would fail – they would be killed or wounded or a prisoner before 20 missions were up."
Airmen had to complete 24 missions before they were 'retired'.
Sarah learns about Singapore
The second story revolves around Sarah and her great-aunt June, who was a nurse in Singapore when it fell to the Japanese in 1942.
June's health is failing and Sarah is paid by her parents to give up her party plans and spend the weekend at June's house. June is typical of her generation, Catran says, and of many war veterans.
"In our modern society we don't tend to bring aged people into the family. We isolate them. Someone like June is used to looking after herself – she never married. She wants to keep her independence just as long as she can. There are people like that still around, and often they haven't talked a lot – even to their family. It's too much."
The fall of Singapore was "the greatest disaster in British military history", Catran claims.
"Thirty thousand Japanese forced the surrender of about three times their number of troops. I'd always believed that famous story that Singapore fell because all the guns were pointed out to sea, and they were fixed. It was only about 1990 they began releasing the papers on Singapore and the first thing you find out is that the guns were pointed on a 360-degree axis.
"They always believed that any attack on Singapore would come from the sea. (The guns) could have been rotated, but the point is that they were mainly equipped with armour-piercing shells which are fine if you're fighting a battleship, but are no use at all in the jungle. They just bury themselves and give a small hiccup.
Despite knowledge in British command that the Japanese were planning an attack, Singapore wasn't fortified.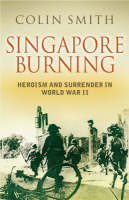 "They simply didn't believe the Japanese could do it. The other great myth is that the Japanese came through the jungle and no-one thought they could get through the jungle. The guy that wrote a book called Singapore Burning in 1990 was driving up the main highway through Malaya to Thailand and he said to his guide: 'Pity the Japs didn't have this in 1942. When was it built?', and the guide said '1926'.
"In fact there were all sorts of roads (the British forces) didn't count on the Japanese grabbing any kind of transport they could and simply moving fast."
Tortured characters and the price of power
The Nazi character in the final story is a tortured, wiry old figure. Old Goodey fought in German Panzers at Kursk and was later a camp guard at Belsen. In the story he is seen wandering the town at night – evading most human contact – gathering toothbrushes and spectacles.
15-year-old Robin doesn't know it, but he shares a favourite hiding spot with Goodey – and a lust for power.
"Goodey gives the idea he's unrepentant, that he doesn't care; but he does. This character's a bit ambiguous. In his house he's building all these incredible things … are they his monsters of blood and honour, is he glorifying it, or are they an extension of his nightmare?"
It is the darkest of the stories and the only one told from the German point of view.
"I wanted to do a story that was a bit different. The first two are stories where a young person meets an older person and hears a story and is affected by it. I wanted to write a bit more than that – more a rites of passage."
Robin's character was partly modelled on a young Adolf Hitler, Catran says.
"He had a little bit in common with Hitler – Hitler had a very doting mother and a rough step-father, and that was one of the formative things in his character. So I made Robin like that – he's one of those people who wanted power and want the emblems of power."
Power comes at a price, he adds. "What Goodey's saying to him is that you can have all that, but somewhere along the road you're going to pay for it. Goodey may be unrepentant – but he obviously has his nightmares. He finds a way out of those by building his horrible things."
Dead mates on Anzac Day
At the end of book Catran details an Anzac Day parade and tells the story of Rob, a hard-up veteran, worried about rates and power bills, who attends a dawn parade.
"I did the story as a contrast between what we see as Anzac Day and the reality of what they see. To us it's a nice patriotic thing, but to them (veterans) it was reality – and lots of small, horrible realities that they'll probably never talk about.
"He's got all his memories that he can't talk about and no-one's ever going to know about. It's an important story."
Catran says the grim task of documenting the veterans' horrific experiences is an essential one.
"It can be quite depressing and a bit upsetting looking at all these things. But what I think is also upsetting is that there are very few older people around now and yet we're still not making too much provision about getting their thoughts on paper or written down. We should be doing a lot more of this than we are."
"American historian Steven Ambrose said 'every time a veteran dies a library burns down'. It's just about true."
October 2007
This is an edited version of this interview. Read the full version.