John Marsden's flying visit to Christchurch
Aussie author John Marsden is one of the BIG names in books. He is known for the Tomorrow series, the Ellie Chronicles — more than 30 books written, millions of copies sold, and a 2010 movie based on his book Tomorrow, when the war began.
He recently visited Christchurch and led some school writing workshops at high schools around Canterbury.
Julianne Pask (Learning Advisor at Christchurch City Libraries) was one of the lucky ones who got to meet him. Here is her story:
John Marsden was in town
When John Marsden arrived at the Learning Centre, he was deluged by star-struck staff with their copies of Tomorrow, when the War Began, keen to get an autograph. He is probably used to it …
John was here in recognition of Christchurch's recent tough times. He had a very tight two day schedule of school talks and visits. It began with a helicopter tour of the CBD on Wednesday to see first-hand the damage done by the earthquakes, followed by a workshop with Avonside and Burnside High Schools, and a public session in the evening.
On Thursday, he was teleconferencing with five local schools, then he visited Cashmere and Linwood. He made high schools that are site-sharing his priority.
He was calm and warm to all and revealed his secret weakness — Diet Coke. He certainly needed the caffeine to keep up the whirlwind pace
John Marsden, writer …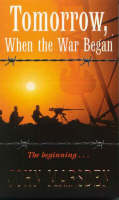 Always a popular writer for young teens, it would be fair to say his profile has risen even higher since the film of his first Tomorrow series book was released last year. Originally published in 1993, the book series has sold millions, and been translated into five different languages.
The series deals with a small group of Australian teens who become guerilla fighters to retain their freedom in the face of foreign invasion. The real story is not just the action, but also the relationship between the characters, and their emotional growth in the face of crisis. A lot of its popularity with boys and girls alike can be attributed to these great characters, especially Ellie and Homer.
The plot is full of action that translates well to the big screen, but the film received mixed reviews. Costing $27 million Aussie dollars to make, it hit number one in Australia making it the highest grossing domestic film for that year.
… and teacher too
As well as being a very successful writer, Marsden is also a trained teacher. Since his first book was published in 1987, he has written or edited 40 others, selling over 5 million copies throughout the world.
In recent years he has reduced the amount of time he spends on his writing, so he can concentrate on being the principal of his alternative school, Candlebark.
More Marsden