Ella West on the Thieves trilogy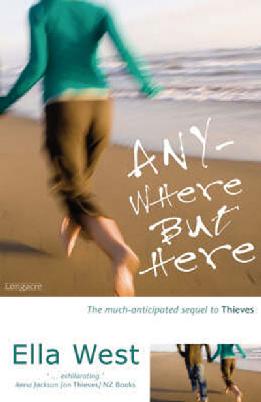 Ella West is a Dunedin-based writer who has just released Anywhere but here the second book in the Thieves trilogy. She took time out from her day job of being a journalist to answer some questions from The Pulse.
Did you always know "Thieves" would have a sequel?

When I was about a third of the way through writing it I realised there had to be another book and then, suddenly, a trilogy made sense, which is what has happened. So, sorry, everyone has to wait a bit longer to find out what happens to Nicky and the other thieves.

Have you started on the third book in the trilogy yet? Can you tell us what it will be called?

Yes, the third book is finished and the publishers have it now. I have a working title for it but we will see what happens.

In Thieves it seemed like you deliberately left the nationalities of the kids unknown, in Anywhere but here you pin them down, why did you decide to do this?

I wanted teenagers reading the first book to be able to identify with the characters whoever they were or wherever they lived - sort of the "Everyman" idea from literature. By the time the reader begins the second book, hopefully this has happened and the nationalities and other information about where they are in the world brings another level to the book. It has been interesting how people have been guessing where the Project is, with most thinking it was in an Australian desert!

Do you have any other projects on the go?

Yes, of course. I just need some time! I have been writing for screen this year which has been really interesting. Having only 90 minutes of screen time to tell a story instead of 50,000 words makes you a lot more disciplined.

If someone has read your books and enjoyed them, what would you recommend they read next?

There have been a lot of great New Zealand books for teenagers published in the past few years and even before that - just look for the New Zealand sticker on books in the library.

Do you have a favourite book?

I have lots and they are favourites for all sorts of reasons… But you can never have too many favourites and I always love finding another one.

How important are libraries to writers? Do you have a favourite library?

Whichever is the closest! I have fond memories of the library in Invercargill where I grew up. It was really old and we had to climb a steep, wooden staircase to the children's library. It is all gone now and Invercargill has a nice new one with lots of glass and balconies and reading areas. Libraries are important to all readers and writers are readers too!
October 2008