Beaulah's book launch and the Canterbury High Schools' Creative Writing competition winners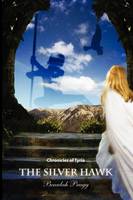 The air buzzed with anticipation at the book launch of fantasy adventure The Silver Hawk by Beaulah Pragg. The event took place on Saturday 15 October 2011 at the South Learning Centre, Christchurch.
The story is set in Tyria, a world of priestesses and magicians, queens and consorts, advisors and gods. It follows multiple characters on their journeys and struggles with injustice, social conflict and political tension, including the Narian 'gods', who watch their favourite humans with passionate interest:
Tasya has no idea she is being watched by the gods. She has no reason to suspect she is not entirely human. Meanwhile, the gods have problems of their own. It will be no easy task for them to save their favourite humans from extinction, and themselves from permanent exile.
After a brief glimpse into this new world, Beaulah announced the 10 finalists and overall winner of the Canterbury High Schools' Creative Writing competition.
First prize went to Emily from Middleton Grange (pictured above with Beaulah).
Mead from Rangiora High School was second, with Laura from Christchurch Girls' High gaining third place.
A special merit award was presented to Max from St Andrew's College. Prizes were awarded by competition judge Coral Atkinson (herself a published writer) who commented on the high quality and convincing themes of the entries.
Beaulah Pragg
Beaulah Pragg is a Christchurch author who has just published her first novel, The Silver Hawk.
Beaulah works as a contract graphic designer and video editor.
She is passionate about making things happen in Christchurch and has worked to help create projects such as the Canterbury Time Capsule, KilimanjaroNZ climb and the Canterbury Teen Writing Competition.
Creative writing opportunities for teens
In September and October 2011, Beaulah was involved in events for local teenagers:
A short story writing workshop
Canterbury High Schools' Creative writing competition
The launch of her novel The Silver Hawk
Short story writing workshop
Beaulah ran a short story writing workshop for teenagers.
The session featured a brief talk on library resources about creative writing and how libraries can help to make your writing a success.