My Style
Here's some links for fashion lovers and stylistas.
From squishing spots to body art.
Two small words that involve a lot.
The best from around the world.
Hot fashion down under.
Some tips on looking good for the school ball.
Finding out about fashion
September is the most fashionable month — NZ Fashion Week takes place in Auckland in September. New York and Melbourne also play host to their respective Fashion Weeks and begin a round that includes Milan, London and Paris shows.
Christchurch City Libraries has a fashion guide to link you with books, magazines and web sites on the elements of style.
DIgital fashion magazines
A great place to keep up with the latest trends. Here are a few of the best online mags for teens.
Zinio for libraries also has fashion magazines that you can download and keep.
Street Style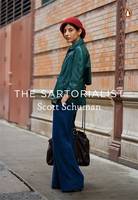 Are you interested in what people are wearing on the streets?
The sartorialist is a cool blog by Scott Schuman.

He takes portraits of stylish and unique people. His book The sartorialist is a collection of photos from the blog.
Regular blogging from the streets of Auckland and Wellington.
There are lots more blogs and websites devoted to documenting style on the streets.
March 2015